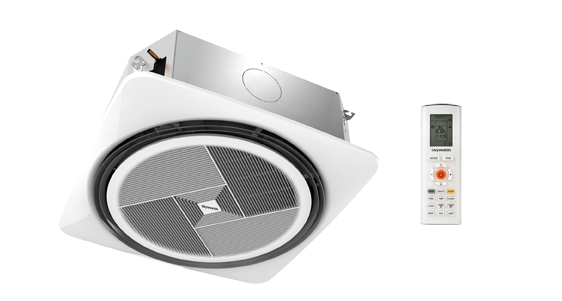 Seria Tip Casetă
U-Match DC Inverter
Global Patented 360-degree technology
Skyworth Cassette 360 is a real archetype of design. First presented in Milan Mostra Convegno Fair in 2016, this unit has been the first global patent for a real cassette 360-degree outflow. Contrary to other brand solutions, this unit does not blow in four or eight directions, but at reals 360 degrees, though a rotating round shaped panel. It also comes with a vivid LED light, colored according to operation.
A Global Patented 360 degree outflow panel. A state-of-the-art design
Equipped with a condensate Water pump as standard
Comes with a wireless remote control as standard
Able to connect to a wired remote control as optional
U-Match Duct
U-Match DC Inverter
A Discreet yet strong and reliable solution
A classic versatile and strong commercial application, Skyworth DC Inverter Duct comes with a variety of controllers, such a wired and wireless remote control, and a strong capacity and energy efficiency. It is a product on which professionals can rely on, through the application of Japanese brand DC Inverter compressors and DC Indoor and Outdoor Fan motors.
A reliable and tested strong yet discreet professional solution
Equipped with a condensate Water pump as standard, for capacities above 36.000 Btu
Comes with a wireless and also a newly designed modern wired remote control as standard